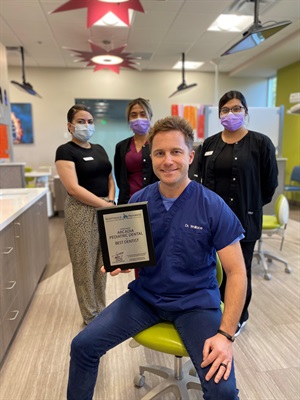 Our Philosophy
---
At Arcadia Pediatric Dental, we promise to provide high-quality dental care in a fun and family-friendly environment.
We are
SPECIALISTS

in Pediatric Dentistry.

We are board-certified Pediatric Dentists. Not only did we complete an additional two years of specialty training following dental school, we also participated in an additional voluntary examination process to obtain board-certification in order to provide your children with the highest level of specialized care.
We
ONLY

see kids.

Children's mouths are different than adults', and we are dedicated to the oral health of our patients from infancy through adolescence. Our entire office is geared toward making the experience fun and comfortable for kids, from the lobby to the treatment rooms.
We are
COMPASSIONATE.
Our mission is to help your children live healthy, happy lives. Our pediatric dentists are parents too, and treat all of our patients with the same care and compassion they would their own kids. We do everything we can to ensure your child's trip to the dentist is a positive experience.
We encourage
PARENTAL INVOLVEMENT.
Unlike many other dental practices, not only do we allow parents to be present with their children during their appointments, we encourage it! Parental presence can help both you and your child feel more at ease. It also provides an opportunity for you to discuss your child's oral health with our dentists and get immediate feedback and tailored recommendations.

z